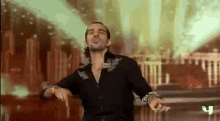 It's the 2nd Tarboosh Records Monthly Beat Battle
OK folks, I've picked 2 records from my collection complete with some (gentle) dust from the deserts of Dubai and 2 bonus breaks cuz, why not? No theme, I'm not that clever... besides, I don't really wanna limit you any more than the samples.
CLICK THE LINK BELOW N GET CHOPPIN
Dems the RULES:


-MUST use at least ONE of the samples provided
-Outside sounds (Drums, synths, vocals, etc) ARE ALLOWED

just don't go HAM
-You're allowed more than one entry (just don't over do it)
-Keep your beat under 3 minutes long
-Feel free to join up with a homie to create your beat...

- UPLOAD your entry to Soundcloud get the share link and post it in this thread.
- Your entry MUST have #TRS002 as part of the title to be accepted.
The deadline is Wednesday 3rd March... after that, same as last time, we start a NEW voting thread and SoDamnFresh aka AMBA will make a playlist of all the entries over at the Tarboosh Records Soundcloud (<-- Peep it, some

on there!)

ANY QUESTIONS? No? Good.
Lol, Post them here or slide up in the DMs >> @tarbooshrecords on Instagram.
If/when the link dies hit me on here or @essarai on insta and I'll sort it.

As always, feel free to give any constructive critiques, comments, and feedback on other peoples beats... it's nice to hear your beat sounds good but also good to hear where you might not be paying enough attention or just general tips to improve.. all is meant in good spirit!